This steak and potato salad is a light and flavorful way to savor red meat in the spring and summer.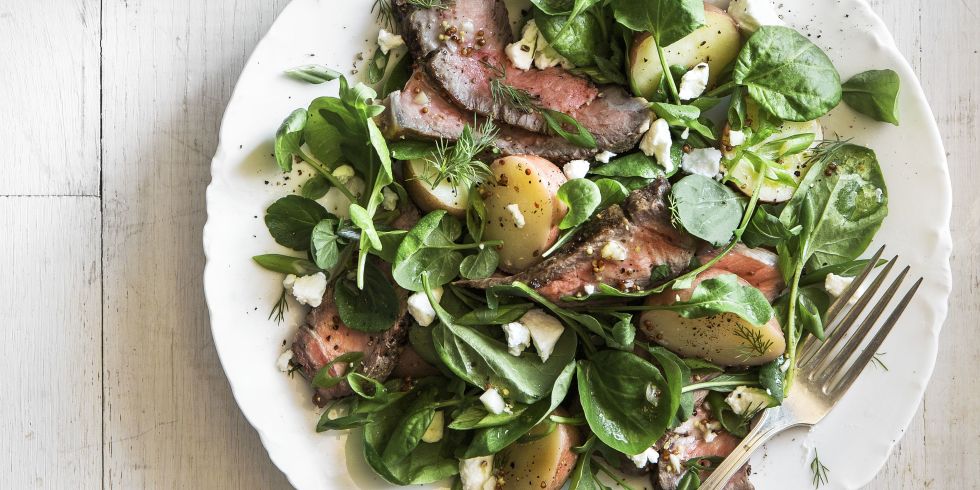 INGREDIENTS:
1 lb. small new potatoes, halved
Kosher salt and freshly ground black pepper
Champagne Vinaigrette
2 teaspoon canola oil
1¼ lb. New York strip steak
4 c. arugula
2 c. torn watercress
2 scallions, sliced
1/4 c. torn fresh dill
3 oz. goat cheese, crumbled (about 3/4 cup)
METHOD:
Place potatoes in a medium saucepan and cover with cold salted water by 2 inches.
Cover and bring to a boil, reduce heat and simmer until tender, 8 to 10 minutes.
Drain and toss with ⅓ cup vinaigrette in a bowl.
Let sit, stirring occasionally, until the dressing is absorbed.
Meanwhile, heat oil in a heavy bottomed skillet over medium-high heat.
Season steak with 1 teaspoon salt and ½ teaspoon pepper. Cook, partially covered, until the internal temperature registers 130°F (medium-rare), 5 to 7 minutes per side, or to desired degree of doneness.
Remove to a plate and allow to rest 5 minutes before slicing.
Add arugula, watercress, scallions, dill, and remaining vinaigrette to potatoes; gently toss to combine. Season with salt and pepper.
Serve with steak and sprinkle with goat cheese.
To make the champagne vinaigrette, whisk together ¼ cup olive oil, 2 tablespoons Champagne vinegar, 1 ½ teaspoons whole-grain Dijon mustard, 1 minced small garlic clove, and ¾ teaspoon sugar.
Season with salt and freshly ground black pepper.